World Leading
Art Sculpture
Designer and Manufacturer
10+ Countries & 400+ Statues every year
Bodasu Venkataramana, born in the year 1974 in Feroz Nagar village, Madugula Mandal, Mahabubnagar District, Telangana, started making statues at the age of 15.Till date, he made more than 3000 statues. Numerous exhibitions of sculptures held in Mahabubnagar have had an influence on his interest in sculpture making.He is proficient in sculpting a statue with a picture as a reference. Bodasu is known for making statues out of various metals such as bronze, metal, brass, cement and fiber.
Bodasu's experience made it a piece of cake for him to create more tham 400 ft. statues The seed for his interest in sculpting figures has been sown at a young age when he used to make small clay figures. He was recognised for his Dr. Ambedkar sculpture in 1991.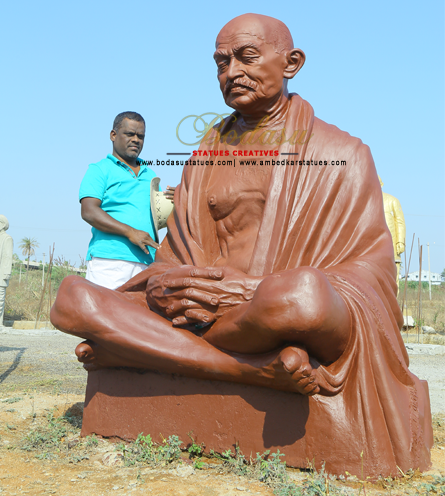 Gandhi Statues
Mahatma Gandhi Statues Made by Bodasu Venkataramana. One of the statues was ordered by GSI (Geological Survey of India). Venkataramana was honoured by GSI on the occation of unveiling of the statue of Mahatma Gandhi. Another Statue of Mahatma Gandhi in Sitting Position is placed at kothapet Court, Hyderabad.
working with us
Bodasu Venkata Ramana is popular for his prominent statues of Dr. Ambedkar.
Bodasu's works have been established in various states of India such as,
Andhra Pradesh, Telangana , Maharashtra, Tamil Nadu, Gujarat, Madhya Pradesh,
so and so forth.. he made more than 3000 statues
Contact us
Recent Works
Following are just small part of our recent orders